Ten 2021 Commission Highlights
As a rule, as the year draws to a close, we'd share the disaster icing of the year. Whilst I'd love to say here, that my icing has grown so amazing, there were no funny icing fails, I'd be lying. So, this year I thought I'd share some commissions we've worked on in 2021. Now I tend not to share commissions without the owner's permission and especially not before they have. Because part of our service offer is that we can give you an edge to your business. We design to your specifications – seems obvious eh – but not everyone does. And then we keep it a well-guarded secret.

This year then, to ring the changes, we've brought together ten 2021 commission highlights for your edification and delectation.
1. Baked Bites Babe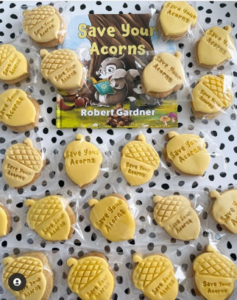 For them we were all about the acorns for the book launch of Save Your Acorns. As it happened we had an acorn shape in our armoury but created the stamp to go with it by copying the font style of the book and imitating the top of the acorn.

Children at the book launch received one of these cookies – a smashing idea we thought.
2. Cookie Doodle Doo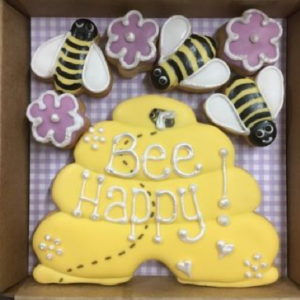 For Cookie Doodle Doo we buzzily created the beehive you see here. Ah, simple' I hear you say. Well it was until they asked 'could we have the bees and the beehive fit this exact box, with some space around?' Cue much cutting out of cardboard boxes, to get a good layout.
3. And it's not all about the cookies y'know!
Ceramic artist @ceramicsbychristina asked could she have a 23cm map of Northern Ireland with the lough cut out? 'You can we said' – and this what she produced with it. I'm also sharing her house here – we made the cookie cutter for the front. Windows all measured with expert precision by Mr SED.
4. Holy Moly Bakes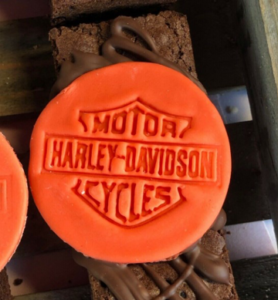 The good people at Holy Moly Bakes wanted a Harley Davidson logo stamp to create some special biker toppers for her brownie bakes. We also made her an icing stencil to go with. Do check out her Facebook page – oh my it's divine!
5. Snowberry Emsworth
Thank you for helping me grow! Snowsberry-Emsworth wanted a special stamp to go with her teacher collection. But it had to be an exact font and size, to match her existing cutter. Which we're super happy to do – you don't have to buy it all from us.
6. Decolicious123
Now we come to Navshina who runs Decolicious123 and caught up with us on our Ebay shop. 'Can you create me a Lengha set?' This took a time to create, especially to get the arms on the top just right. But we're sure you'll agree the result is so stunning.
7. Hey Duggee!
We absolutely love these Hey Duggee toppers from Yvonne's pantry. Here we created five designs, all 5-6cm tall, with internal detailing. This set ranks amongst our most challenging this year, because of the detail and the size. The printers are not keen on very fine detail and it takes a few goes – well, yes, maybe three or so! – to get them spot on.
8. elissa.loves.baking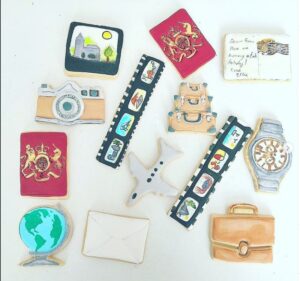 This time travel-themed set. Here we made the passport stamp, to bring this set to life. We've worked with Marnie many times over the last year. And her ideas are always exciting to work with and bring alive.


9. The Foxtrot Food Company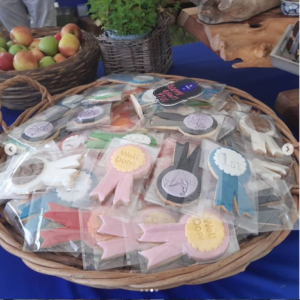 The Foxtrot Food Company are local to us (over the hill in Wroughton) and we've worked with them from the outset of their business. And that's so special to us. We've watched several of our commission clients grow their businesses in front us, with our help (not loads of our helps obvs!) 'Jo, can you create a rosette shape, with a cutter for the middle to give an inside crinkle?' And then stamps to say 'Well done' '1st' etc. The ones you see here ended up at the Pony Club first meet of the year.
10. And last but not at all least
Out of everything we've done this year (and there's been hundreds) this is one of my favourites.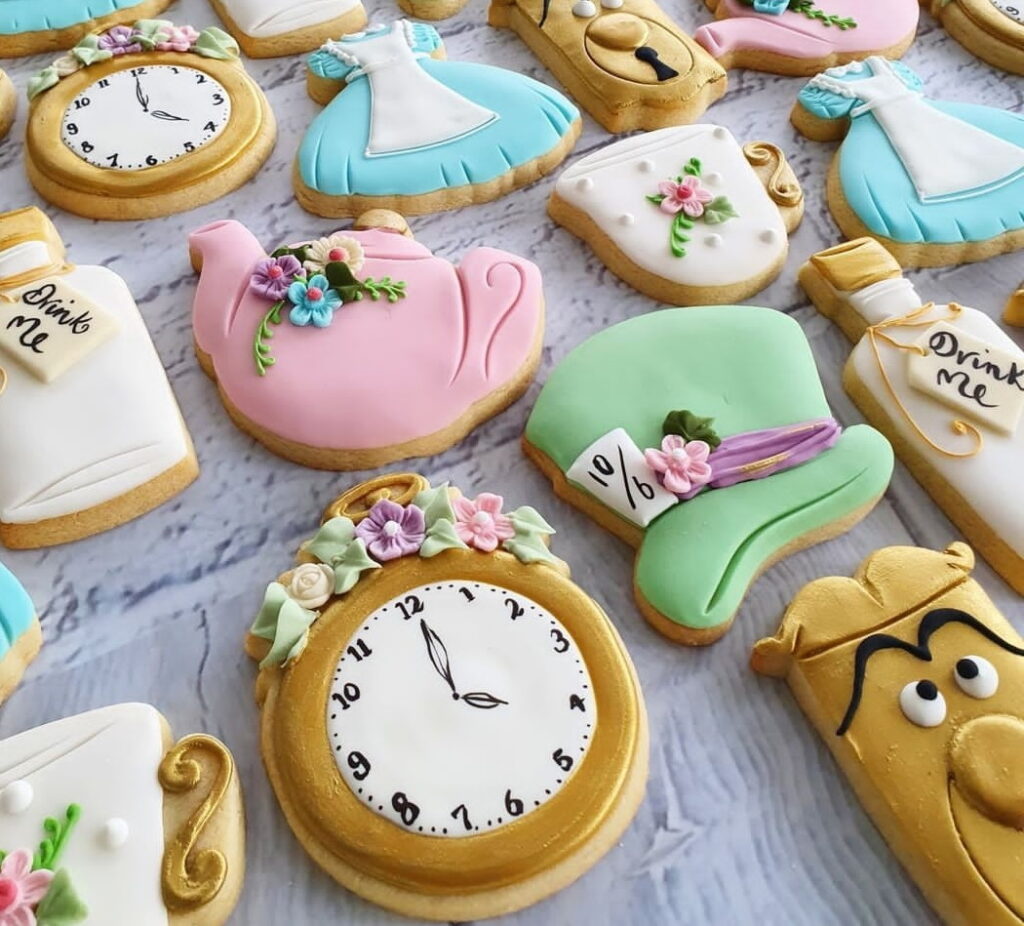 For Hetty's Cake House Alice-in-Wonderland themed cookies we created the cutters for everything you see here and it was a beautiful experience. The flowers on the pocket watch are bloomin' gorgeous aren't they?
Our Commissions
Our commissions, as you can see, are vast and varied and not at all only cookie-cutter-based.

We've also created this year, an adaptor pipe for a boat, bushes for a child's motorised bike, a sun shield for a Garmin unit, fridge magnets, a box to contain innovative Rugby equipment (a box is simplifying it, the design included many spaces for leads, batteries etc!) that one tested Mr SED.

All the clients, I show you here, have gone on to become friends. We see it as a collaboration, where we get a chance to help grow their business. We're dead chuffed about that and it's one of the main reasons we do what we do.

Fancy a commission? I trust via our Ten 2021 commission highlights I've shown how easy it is. You just pop us an email – our contact info is here. Or find us on Instagram/Facebook. We'd be happy to help.

Wishing you a wonderful New Year. 2022 here we come.