STEM (the acronym used for the studies of Science Technology Engineering & Maths), is biggish news at the moment. In the main, the news splash that STEM is making, results from the lack of graduates in these subjects. And the ensuing job shortfall in these industries.
STEM affects every part of our lives. From making dinner to mass food production. Our future, with its autonomous cars, Artificial Intelligence, advancing medical care and, dare we say, self-service checkouts (I know, you gotta love em!), is in serious need of STEM graduates and their fertile minds.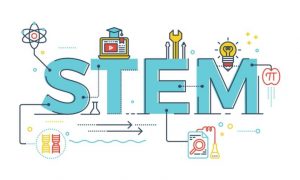 What's happening with STEM in schools now?
Then there's the question we can't ignore. Why are girls and young women taking STEM subjects at either GCSE or A 'Level so rare?
At primary school level, children enjoy the exploration of space, making slime, examining why a robot works. But, all too often, once they get to secondary school their excitement about science evaporates. Instead it's replaced with rote learning (thanks Mr Gove), continual testing and pressure to succeed. Rather than enjoying the action of science. Boys as well as girls get turned off by all that. And why wouldn't they? But it's the real, distinct lack of girls studying further, that shines out.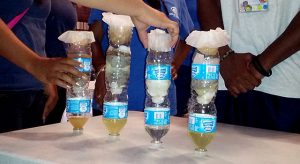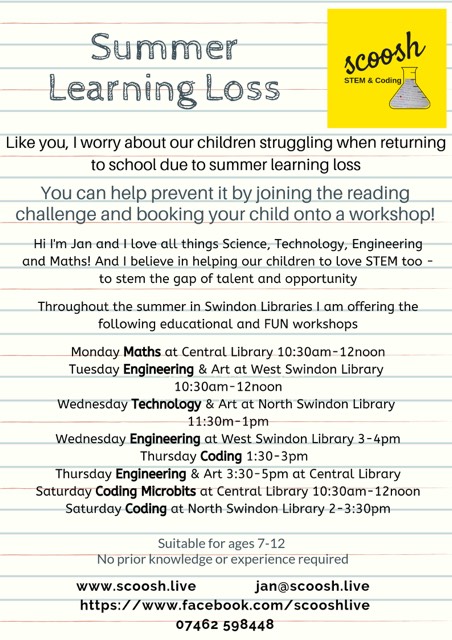 There's lots going on encouraging young people to fill the gaps in STEM. There are STEM Ambassadors, coding clubs, Makerspace's in most towns. Along with STEM Fairs. I've put a list of contacts at the bottom of the blog, if you're interested. If you're local to Swindon, then do check out Scoosh STEM & Coding. They're holding lots of workshops over the Summer holidays.
---
So there's a summary of STEM. And now here's some facts for 2019:

Top five in-demand skills (via LinkedIn) for 2019 are: Cloud Computing, Artificial Intelligence, Analytical Reasoning, People Management, UX Design (key to making digital world work for humans). Of the five, three are STEM related[1].
Top five STEM careers in the UK for 2019 are: Computer Engineer, Software Engineer, Chemical Engineer, Biomedical Engineer, Industrial Engineer[2]
STEM is endless – we have challenges and need answers every day. How can we get to Mars? What decisions should AI make on our behalf? How can science progress the medicine we produce? Can engineering create more and better crops – and many more.
Within STEM occupations in the UK, 40,000 jobs remain vacant each year. This means 48% of businesses have to look overseas to fill those vacancies[3]. The shortfall in graduates of STEM costs the UK £1.5bn a year.
We'll have 1 million women working within STEM in 2020 within the UK, currently there are 900,000.[4]
There's been a 217% increase in STEM related activities for children over the last year (2018-19)[5].
Women and girls make up 50% of the population but only 24% of the STEM workforce[6].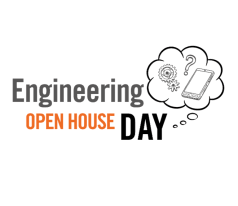 The Institute of Engineering and Technology is a frequent holder of Engineering Open House Days for everyone to take part in engineering and encourage the uptake of A Level studies
Within the UK, the digital economy is growing 50% faster than the wider economy, average salaries 44% higher[7].
There's tonnes of resources out there to get your STEM juices flowing!
As a woman working with 3D Printers, day in day out, I love innovation and the magic of 3D Printing. Of which is only a small part of STEM. It's our job to keep our young ones engaged in any or all elements of Science, Technology Engineering and Maths. Especially, if we want to continue to lead the way in innovation.
Do check out and give us a follow over on Instagram or Facebook, where we share new innovations from around the world on a regular basis.
Resources
The Big bang fair 11-14 March 2020
Coding Club – global network free coding for 9-13 year olds
Science Buddies – Stem Activities or for older children STEM Holiday Activities
---
[1] https://learning.linkedin.com/blog/top-skills/the-skills-companies-need-most-in-2019–and-how-to-learn-them
[2] https://www.careeraddict.com/engineering-jobs
[3] – Improving diversity in STEM, CaSE, 2014 http://sciencecampaign.org.uk/?p=14146
[4] Workforce Stats Women In Science Engineering https://www.wisecampaign.org.uk/statistics/2018-workforce-statistics/
[5] Career in science now dream job for girls – https://industrialstrategy.blog.gov.uk/2019/03/14/a-career-in-science-is-now-a-dream-jobs-for-girls/
[6] https://ngcproject.org/sites/default/files/ngcp_the_state_of_girls_and_women_in_stem_2018a.pdf
[7] Tech Nation Report for 2018 – https://technation.io/insights/report-2018/