In a world surrounded by #hashtag this and #hashtag that, when we come across an unusual #hashtag we tend to stop and take a look. #whatsthis #notseenthisbefore #novel #exciting #interesting #mustblogaboutit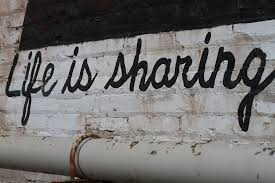 #sharingeconomy came up whilst we were checking out HomeCamper.com.
Home Camper offers, as the name suggests, camping in domestic gardens across Europe. Well as you know, always one to be nosey, that led me to think about what it means to live in a sharing economy?
Are we a #sharingeconomy?
This quotation from Benita Matofska, Chief Sharer, The People Who Share describes the #sharingeconomy thus:
'The Sharing Economy is a socio-economic ecosystem built around the sharing of human, physical and intellectual resources. It includes the shared creation, production, distribution, trade and consumption of goods and services by different people and organisations … '
Not exactly snappy is it? Essentially Benita is saying that sharing is the only way forward for our world, if we are to survive. As we know resources are running low. How is it that a far larger proportion of the world is poor, than wealthy? Can we sustain our current consumption of everything around us?
What else can we learn about #Sharingeconomy?
This blog, What is the Sharing Economy, may illuminate you further.
We teach our children to share. Every mother has 'share that, please' tattooed on her eyelids!! As we grow and earn our first wage packet, we buy new things. And there's a certain amount of joy to be had from that first purchase. Our very first, earn't by our own efforts. Then we grow more, and continue to buy, and buy. We share less. What's more we don't want to give up what we have.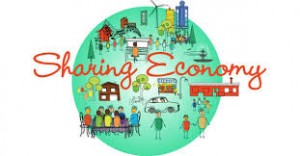 Benita believes 'the more we share, the more we have' and this includes services, items, skills, time and ideas.
Interestingly, and to digress a tiny bit, a friend and fellow business owner has written blogs herself around this very topic. Sharing is Caring, she uses a Buddha quote that says it all pretty well: "If you light a lamp for someone else it will also brighten your path." 
Anyway, back to Benita:
You name it, it can be shared. And when we share we meet people.  A third of us don't know our neighbours, and our homes have over £1.6trillion worth of unused items sitting in them. That's pretty mind-blowing don't you think?!
Here is Benita Matofska's Ted Talk explaining the Sharing Economy. Take a look and see what you think.
Sharing Caring Camping/Outdoors
Homecamper.com isn't the first company to create camping in gardens. Camp in my Garden was created in 2010, to provide campers and garden owners across Europe a place to meet. Charging a small amount, garden or land owners, offer their space to campers, campervanners or caravanners to camp in. It's all in the name after all.
Gift your Gear is an enterprise set up to donate your unwanted outdoor gear, to help the next generation get outdoors. Winners of the Gold OutDoor Industry Award 2015, for their innovation, they've enabled over 600 community groups, youth groups and charities to get outdoors safely and warmly.
The North Face clothing brand, have their own recycling initiative 'Clothes the Loop' where old outdoors clothes from any brand can be taken to them, and recycled. Newly launched here in the UK, find out where you can 'Clothes the Loop' in the UK.
But it's not just gear we can share. What about the knowledge we build up as 'outdoorers'?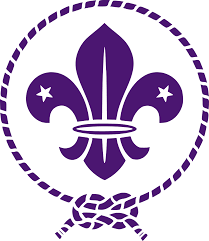 Scouting is one way to give this back to the next generation. Leading community walks for the older generation locally is another. As is helping out in senior schools who take part in the wonderful Duke of Edinburgh Award scheme.
Passing on our knowledge is vital, whether it's via a forum (either running it or posting on it), running after school clubs, helping out that neighbour next door with their tent or just blogging!! Of which there are now thousands, all sharing information, time and experience. If you want to join in, Global Sharing Week is 16-22 June 2019.
So just a few ideas. We can't count the times we've been camping and received help or advice from campers around us. We know that campers and those of us regularly trekking outdoors, are a naturally #sharingeconomy bunch.
Who Shares Wins.