I've written before about mental health and the positive effect baking can have. In particular in the run up to Christmas. During this time everything is meant to be as bright and sparkling as the fairy lights. But of course, for a multitude of reasons – it so often isn't for so many people. For me, during the Christmas period, baking is a real release from the festive frenzy. Indeed, I'm going to try out the Sainsbury's forest tree Christmas cake that you see below – that will be my effort to care for both my mental health and Christmas.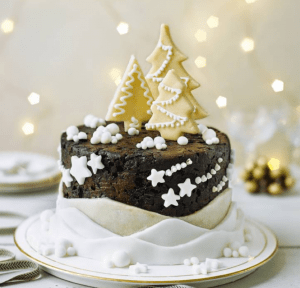 I think we can all agree that my effort won't look like this – you've seen my icing right? But then achieving baked-good Nirvana isn't the point at all. The important thing about baking this cake is that it will give me a creative release and an opportunity to do one thing only. No multi-tasking with printers, social media, packaging etc. I can immerse myself totally in the job in hand.

And that's the important part of mental health for me. Because in general I whizz around like a Looney Tunes cartoon character (antediluvian reference there) being everything to everyone and nothing to myself. And I bet you're in the same position right now with the cookie orders Vs family life. So, we're here to say take five, stop and go and dance round the kitchen. We're in this togetherrrrrr!

Whether that's felting, designing or baking – or whatever.
Mindfulness
Connected to caring for our mental health there's much talk about mindfulness. And here I want to give a mention to the Japanese art of Ikigai – a concept of finding purpose in life. Now I know that sounds rather big and deep and heavy. But its essence is about immersing yourself in something you love, so much, that you forget the world around you. For me it's baking. But it could easily be losing yourself in a good book.
Retail therapy
And of course, there is always retail therapy. The mention of that makes me chuckle, because I know you've got more cookie cutters than you can count and more embossing stamps than you could possibly need in a lifetime. But – nah – more is more. As the inspirational interior designer and model Iris Apfel said 'More is more and less is a bore'.

So, here's some inspiration for you for baking goodies this Christmas – get 'em on your list!

We'll kick of with Easter. Yes you heard that right. Christmas is so last month at SED HQ. We're all about the bunnies and the eggs now. You can peruse our Easter collection with the new releases already there by following this link.

And if you missed it, here's our Christmas showcase blog demonstrating Christmas products old and new.

OR

Why not treat yourself to someone else's bakes? I know – sounds crazy right? But pop yer feet up and get choosing. Why not go classic with Biscuiteers. Find them here. Or see what's in your area and shop local.
Cookery books and Christmas lists
Each year I ask for a cookery book. That feels a bit sad when you can access loads online. But there's something so special about getting a book in your hands and then getting it covered in flour and eggs! It's all part of the ritual. Here's my list this year:

1. The Sweet Roasting Tin: One Tin Cakes – which appeals to the lazy cook in me! Find it on Amazon here.

2. The Cookie and Biscuit Bible – in fact I already have this one and it makes a good little gift.

3. Brontë at Home: Baking from the ScandiKitchen – I got her Essence of Hygge last year. I'm slightly Scandi obsessed but it'll pass I'm sure. It was Egypt when I was 11, and Russia when I was 14. Indeed my whole Home Economics GCSE hinged on a Russian Blini!

4. And then there's the book I go back to time and time again – Nigella's How to be a Domestic Goddess, every cake bakes amazingly well. Even for me! If you know a newish baker or someone wanting a good collection of classic bakes this is the one to get.

So, my friends, enjoy the rush season as best you can. Look after yourselves, and we'll see you on the other side!!

And it'd be wrong of me to sign off without offering you our commission service (!), but we're here if you need us! xx
And don't forget our social
If you need a chuckle then our Instagram account is a good place to go – our frightful icing attempts will cheer you up in no time! And of course we're on Facebook.