Yep, I know, you've not even put your flip flops away yet. Yet here we are dribbling on about Hallowe'en. But we know our bakers and they like to plan ahead. Anyway, just you wait, next week it'll be Christmas! Ha! Evil cackle! So, anyway we thought we'd use this month's blog as a Hallowe'en cookie cutter showcase to give you a chance to look at the cutters and stamps we're launching in early September.
Pumpkins or the Jack 'o' Lantern
No self-respecting Hallowe'en feast could be complete without the pumpkin shape. So, to satisfy that urge we've cooked up a whole collection of them – including a couple of puzzle cutters.
Let's start with our round puzzle cutter. With this and the tower pumpkin puzzle cutter, we wanted to give you a set. One that gives you a separate, useful cutter too.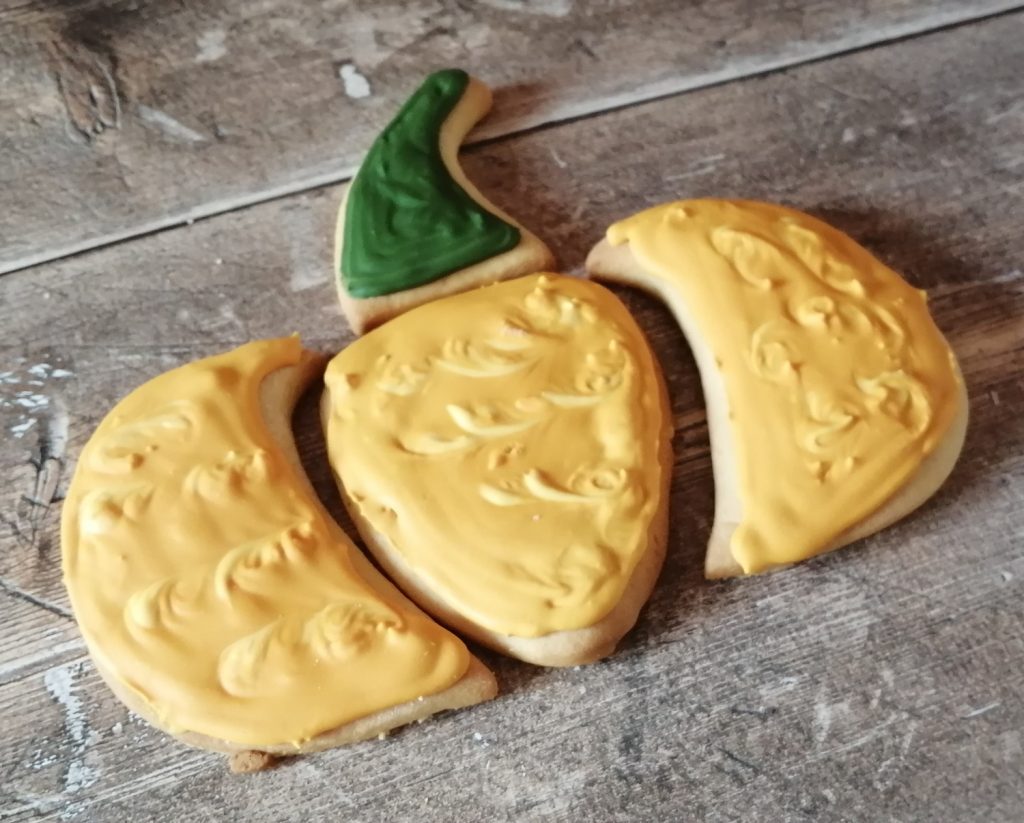 In this instance, it's the middle section of the set. You can use it as pumpkin pie slice or bride of Frankenstein's monster face. Or even a Santa face ready for Christmas? Eek?! Only your imagination – and icing skills limit what you can use it for.
In the image below, you see the pumpkin puzzle tower in which the top piece is a dinky pumpkin in its own right. We've also added a rounder pumpkin and a pumpkin-shaped candy basket. The icing on this is X-rated we know. Don't say we didn't warn you.
Ghostly goings-on
Ghosts and other things that go bump in the night. You gotta have 'em for Hallowe'en.

For our 2021 cutter collection we've added four new ones. Note the super original names for them. If you can think of anything better DO let us know. My fave here is the guy wearing boots. Dahling daughter is going through a Dr Marten's phase at the present time so this in homage! Anyway – here they are:
Large hands
Small hands
In boots and …
… pointy
Remember, remember …
Embossing stamps

Now then, embossing stamps. Umm – we've gone a bit stamp silly this year. We found some frighteningly fab new fonts and we've paired them with some classic Hallowe'en exclamations. Boo to you too!
And last, but of course not least, is our cut-out 'jammie-dodger' pumpkin cutter. Last year this one flew off the virtual shelves so fast we almost couldn't keep up. So, for this year, we've added a skull to the jammie collection. I did want to show you the blood-red jammie eyes. Go on – show us what you can do with this one. Post your pics on Instagram and tag us on Instagram here.

Again, we want to keep it versatile for you – there's oodles of options here: day of the dead, a devil with horns? We know you have the imagination and the creativity.
Incidentally, November this year will see the release of a sequel to that 1980s classic, Ghostbusters. Look out for Ghostbuster's Afterlife! When there's something weird in the neighbourhood and it don't look good … that'll be our icing!
… we love a commission. If you can't see what you're looking for here, give us a shout. We'll work with you to create your cookie cutter. And please share your creations, we want to see them and share them.

Spook on huh?!
And here's a history of Hallowe'en over on Born Again Swindonian. You think it's an American import? Think again.