Embossing stamps and stencils
If you want to give your latte a lift or your Victoria sandwich cake a special sprinkled touch – but lack a steady hand – a stencil is just the thing. Or if you want to add that extra touch to a cupcake, what better way than a fondant topper.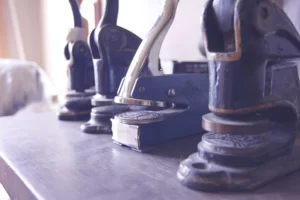 When it comes to creating embossing stamps and icing stencils we take the same approach as we do with our cookie cutters. And that's outside of the box thinking. So, you provide the ideas and we provide the tools to bring them to life. It goes without saying that our embossing stamps and stencils are not at all like the vintage equipment you see in the image above.
1mm thick, our stencils are robust and solid and ideal for flat stencilling tasks. At 5.5mm thick our Embossing Stamps are firm and give a clear emboss.
Check out our gallery below to see a small selection of our designs. But don't go away if you don't see what you're looking for. Customised and bespoke is our middle name.  You'll find our contact details here. As you can see we're always developing, so say hello to our Cake Topper range. Icing is so last year!
Have a read of our 'cakey, stencily!' blog. And DO check us out on social media – if you're a Facebook user then you'll find us there – here. 

Or if Instagram is more your thing then obvs you'll find us lurking there too.