March 2021
I make no apologies for the cheesy blog heading – it's standard with us. And anyway – we do have some eggcellent and eggciting Easter cookie cutters. We've been super busy adding to our Spotify shop. Ergo the main point of this blog is to showcase some eggciting Easter cookie cutters from SED HQ so you can celebrate the Easter Bunny's arrival with biscuits rather than cake.
Anyway, afore we get to showing off the Shopify we thought we may as well have a little look at Easter origins and customs. 
Easter the moveable feast
We all know that Easter is on different dates each year. This year, Easter Sunday falls on the 4th of April. That's almost, but not quite, as early as it gets. Then, on the other end of the scale, it can come very late in April. But why? Well – the answer lies in the moon.

Friend of SED HQ, Born Again Swindonian, has a blog with an even cheesier title than this one, Eggciting Easter Customs make Easter Cracking, that tells all:

The Bible states that, Jesus' death and resurrection took place around the time of the Jewish Passover. And that's celebrated on the first full moon after the vernal equinox. So it happened that, by the 2nd century some churches celebrated Easter on the day of the Passover and others on the following Sunday. Confusing and unhelpful huh?

Come 325CE (common era) the council of what now is Turkey, but then was Nicaea, established that forthwith, Christians would celebrate Easter on the first Sunday after the first full moon that occurred on, or after, the vernal equinox. The wandering date of Easter Sunday is a long and complex tale so if you want to delve deeper try this article from Christianity Today.

Having dealt with that let's crack on – boom! – with showing you a selection from our Easter shop.

NB: If you're in the market for Easter cookie cutters here's a link to a recipe to go with them. It uses Cassia oil – thought to have used in the embalming of Christ's body.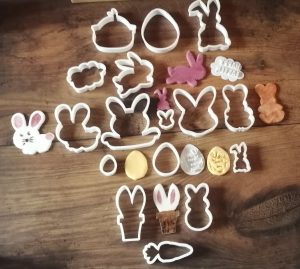 Six New Easter Cookie Cutters for 2021
1. Rabbit ears sticking out of a plant pot
We're all familiar with the Easter bunny trope. But .. according to Born Again Swindonian's Easter blog, the Easter bunny is more likely the Easter Hare. The hare was an alleged companion of the ancient Moon goddess and of Eostre. So waggle your ears at that!

2. Rabbit holding a banner
With this one you can ice an Easter message on the banner.

3. Chick wearing glasses
This is a chubby chick with little wings and over-sized sunnies. Too cool for the coop we think!

4. Rabbit with big ears
All the better to hear you with my dear … said no rabbit in a fairy story ever. But he does make a super-sized sweet snack for Easter. One you can decorate up – or leave plain.

5. Crouching Rabbit
Crouching rabbit – hidden tiger? We don't get any better do we? Don't answer that!

6. Cute lamb
Definitely looking like a stray from Little Bo Peeps's flock, this sheep-shaped cutter is simply charming.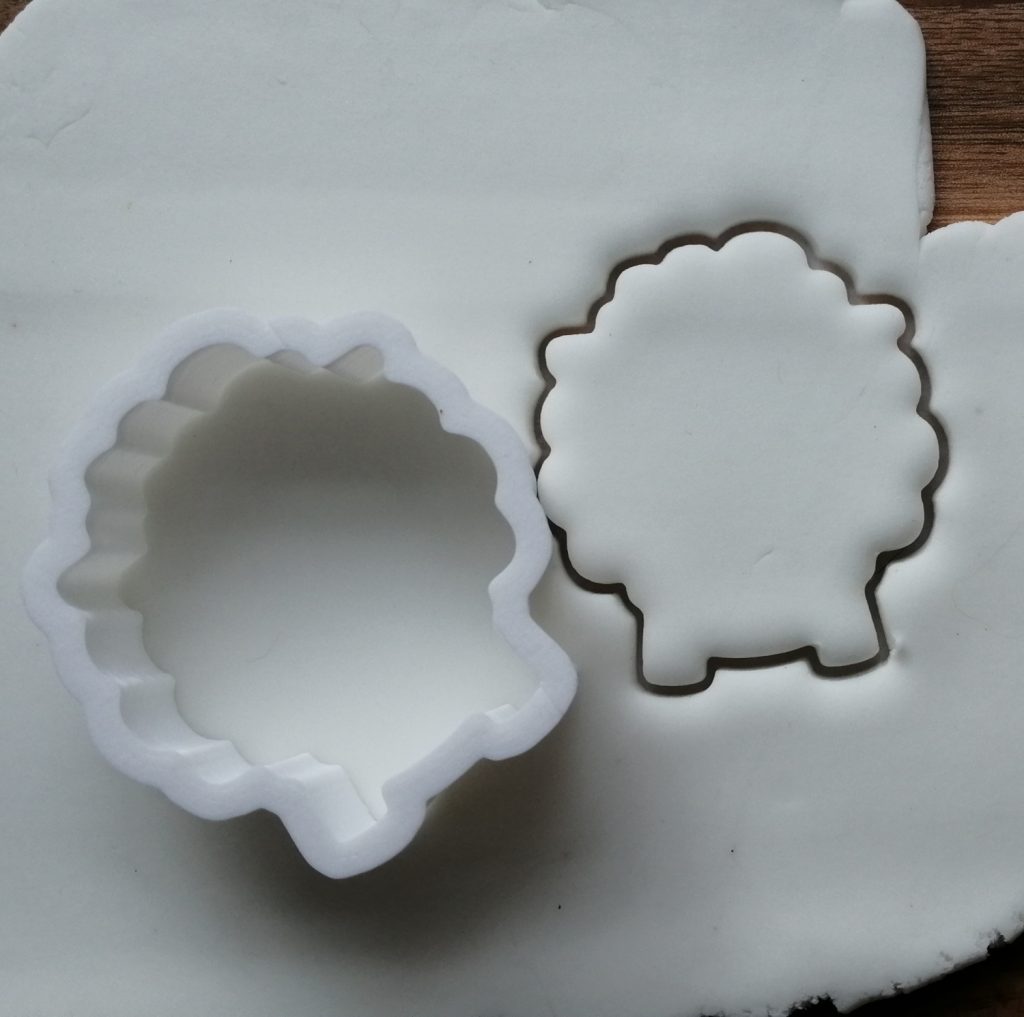 To keep up-to-date with our social media goings-on you'll find us on Instagram here and Facebook here. Want to ask us something? Our contact details are here.

And if after all that, you fancy cake instead of cookies (whadda??) the traditional Easter bake is of course, Simnel cake, as Pink&Green point out in their blog about Mothering Sunday, used to have greater associations with that celebration than Easter! Who knew? Not us!