If you're a crafter, well you'll know what we mean by the above title! Crafts come in all shapes and sizes be it paper, sewing, pottery, marbling, art, well you can see where we're going!!
Our cookie cutters are proving really popular with bakers across the country, and it's because we're creating the 'odd bod' cutters. Not the standard hearts, that you get in the shops. That lead us to thinking, could you use the cutters in crafting projects?
How do we use them?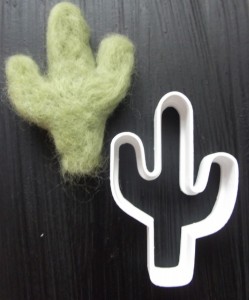 Whilst I do love to bake, I'm a felting addict by nature. I don't profess to be any good at it at all, but I love creating. The process of taking a piece of roving wool and making it into a 3d cactus or ghost! I like to make felting pictures steering clear of the fiddly 3d felting process. Because I hadn't felt brave enough. But I took one of the cutters (cactus in this case) stuffed some roving in and away I went. Here's the finished product – yup definitely rough around the edges, and I know loads of you out there will do a whole world better…… prove me right!
I'll continue on felting, and you can check out some of what I've been upto on Facebook. If you have some ideas for 3d cutters/models you'd like to see, give us a shout!