3D Print Design
It might surprise you to know that 3D printing has been around since the 1980s. Yet it's only been in recent years that the technology has developed to the point where it allows printing on a small scale.
What does that mean to you? Well, it means we can offer you 3D printing design that works for you. It means also that we can offer 3D print design limited only by your imagination. Well more or less.  It's meant we could create, amongst other things, diddy dog bone-shaped zip pulls for Hannah Dosanjh wash bags; a remote controlled, model snow plough; personalized key rings; Eiffel Tower models, and a vintage Vauxhall car badge for a 1930s car where it wasn't possible to recreate the badge.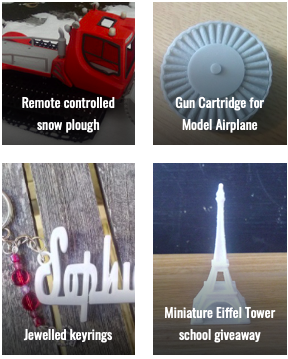 Our gallery below demonstrates what those ideas looked like when brought to life. Now – imagine your ideas made manifest thanks to our design skills and 3D printing technology.
Contact us here to bounce those ideas and check here for our 3D Printing Blogs.