Back in July 2019, mooching about on Kickstarter as is my wont –  I often look there for innovative ideas and inspiration – I came across a 3D Printer that printed with chocolate rather than filament. Yep that's what I said! Chocolate in 3D printed format, from Mycusini. You're with me I can tell. In a state of fevered excitement, I called the tech side of SED developments: 'we have to get one of these!'
So, for the first time ever, instead being a Kickstarter peruser, I took part. And it was so simple. I placed my money for the 3D Printer and five refills of chocolate, together with exclusive access to Mycusini club. All for £228.
Kickstarter promised delivery of the printer for Feb. 2020. But whoa there, it arrived mid-November 2019. As we've had and played with it for two months now, it's time to review it. But not only a technical review, but a review of it set up at home, as you would have it.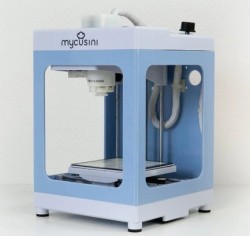 ---
3D Chocolate Printing Leads the way
First question has to be who the heck are Mycusini? Well, let's begin at the beginning. Mycusini is the name of the 3D chocolate printer. It's built by a German 3D food printing start up, Print2Taste. Back in 2014, the team of food experts, hardware and software enthusiasts, joined forces and created the first plug and play 3D food printing system, named Procusini. Printing chocolate was the next logical step.
What are the dimensions of the printer? Measuring 27cm tall 19cm x 19.5cm, it's about as big as my food processor. So, it looks and fits well on the kitchen worktop, or stored with the food processor in the cupboard. It comes in a light blue and white design. There's not too much paraphernalia to go with it so you won't have to find storage for all the 'gadgetry' bits – so often the case with kitchen kit.
Is it robust – yes, it is. But dropping it won't do it any good. It's as robust as any other piece of kitchen kit.
How easy is it for a non-techie to set-up and operate? The printer comes with a step-by-step guide. This novice found it pretty good and clear. This machine is all mine so I made the SED techie stand back and wait (with some impatience) while I painstakingly read the instructions.
And, even after having not touched or looked at it for a couple of weeks, I was able to get back into the flow of how it works. There's an LCD screen on the top of the printer that displays a drop-down menu. This is, for the most part, self-explanatory.
The only problem here, is that it's all in English, except for the names of the prints. So you might need German translations for Easter, Christmas etc. But even that isn't so much of an issue, as you also get a 'picture' book of the chocolate prints. This printer is a true plug and play gadget – out of the box and first print within the hour.
---
What comes with the machine?
We got:
Five chocolate refills
A chocolate cutting guide plate
Tweezers
Small pin to clear out the metal cartridge
SD Card loaded with designs and a flexible mat.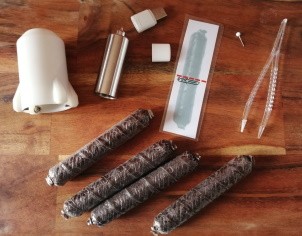 Do I need any extra discs/hard drive etc? We chose to buy another SD Card, as the card is tiny, and our innate fear of losing things drove us to buy another one as a back up
What's the size of the bed on the machine? 11cm square
---
Tell me how it works
Overview:
Mycusini works by melting chocolate through a heated nozzle, and using the 'gcode' computer file, to tell it what to print. It presents the chocolate in a shrink wrapped 'cartridge' shape -but called a refill. You have to cut the refill in half, and put one half in the metal cartridge.
Cutting the chocolate to the correct length is tricky, as the refill is solid. And even using the cutting mat, (to guide us) our refill halves were too big. Which meant we had to trim them, and so lost chocolate.
You have to place the chocolate in the metal cartridge. That in turn goes into a white plastic cartridge holder that's fitted to the 3D printer. That's easy to do, although you have to be firm with it. Once the Mycusini printer is happy it has chocolate in it, there's a ten-minute wait for the chocolate to warm up and melt. Ten minutes is a lot longer than a PLA printer. Mycusini say this is because the chocolate has to melt all the way through to the core of the refill.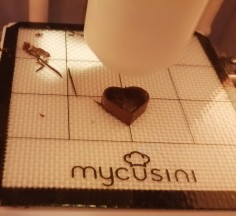 Once the chocolate has melted, you extrude a small amount of chocolate to get the nozzle and system primed. Once you've done that, you're ready to choose your print and away you go.
The chocolate prints onto a flexible mat, placed over the printing plate, this is ideal as it means you can remove the clear from the machine. But the prints need time to settle before you attempt to remove them. Once settled they are easy to remove.
One negative is that you can't change a refill of chocolate part way through a print. Thus, if you don't have enough chocolate for your print, it'll run out part way through.
What's it like to clean? I'm not going to lie -it's a faff. The metal cartridge with the chocolate in it, is painful to clean. The pin supplied does clean into the point of the cartridge, but it needs a good wriggle and a thorough clean throughout. The actual printing isn't that messy, with a few drips when we extruded the chocolate.
---
Tell me about the chocolate…
What is the chocolate mix? The chocolate mix comprises sugar, hydrogenated vegetable fats (coconut and palm kernel) cocoa powder, vanilla extract, a stabilizer and an emulsifier. It looks like chocolate. And, more to the point, tastes like it!
Do I need to chill the chocolate? No, not before using. We have chilled the designs post-print, to keep them fresh and help keep the shape until we wanted to use the item
How many designs can you get from half a refill? Between three and four – though that depends on size and complexity. Again make sure you have enough to complete your item.
How much does it cost to replace the chocolate? It's £6.68 for five refills – via Reichelt.de That's before tax and postage. It's expensive – you're looking at about eight objects per half a refill. That equates to about 17p per item.
---
Designs for 3D Printing with Chocolate
How many designs do you get with it? You get over 100 designs, and when you buy the MyCusini you get access to the Mycuisini club with access to extra/additional designs. The club also gives you updates, access to the Facebook page, and the option to design chocolate yourself!
Can I put my own designs in? Yes – you can. We input our own STL files which we use for the PLA filament 3D Printers, through the MyCusini club link. Our results are below, and they're impressive. There was not adjusting needed on our part, the MyCuisini application made all the corrections for us. We downloaded the 'STL' file onto the SCard and away we went.
You're also give then option to draw freehand, our example on the left. I'd say if you're an artist or good freehand go for it. But frankly, as you can see, I'm definitely not, And it wasn't worth the chocolate to print it.
The ability to transfer our PLA filament STL's over to chocolate is a major win for us and our business. We explain STL files and how to create them in our blog 'Introduction to 3D Printing and Inspiration' along with creative places to go and find 3D models to print.
---
In Conclusion
Why would I buy one? You'll buy one if you want to create chocolate designs in a cake making or catering capacity from home.
Yes, it'll do catering in a professional kitchen, at low volume. Also, if you're an early adopter or want a novelty piece of kit.
I'm a home cook. Is this for me? Yes it is – in particular if you're into cake-making and decorating. The option to draw your own creations and have them printed, makes it even more impressive.
How much is it? Again, It's available through Reichelt £256, with postage on top.
So, yes, it's a neat, cool piece of kit. It's a little expensive for the chocolate but, as with all early developments, the price is sure to come down. The printer is quick and easy to use, and we've had little to no problems getting it set up and working.
---
Let us know what you think, and as always keep an eye out on our Instagram and Facebook pages, for more innovation!!